"One of the most recent alleged sightings of a large moa took place on January 20, 1993, in the Craigieburn Range. Three individuals sighted and one of them photographed what they insisted was a six-foot-tall bird. They swore it was a moa, not an emu, ostrich, red deer, or any of the other expert-proposed or media-suggested animal candidates.
Paddy Freaney, current hotel owner and former instructor with the British Army's elite Special Air Service, and his companions Sam Waby and Rochelle Rafferly were tramping — a New Zealand term for hiking in rugged terrain — in the Canterbury high country when they came upon a large bird. "The minute I saw it, I knew what it was," Freaney said soon afterwards. "I believe it was a moa." "
I am planning a mini Moa hunting expedition tomorrow, so have been researching up a storm today. I believe that the last Moa spotting was in the Cass-Lagoon Saddles area. I only have the day to do the 32km long, 1000m vertical Cass-Lagoon track, which is normally a 2 day tramp, so I will park at the Cass end, hitch to Coral Lynn and run the track with camera in hand. Hopfully I can snap a better shot of a Moa than the crap photo (see below) that Paddy Freaney took back in '93!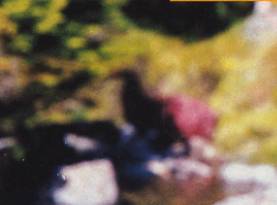 Paddy's Moa photo, taken in 1993
My planned route for tomorrows Moa Hunt (mapmyrun.com- choose "Satellite" for map type)